How to Use LumboGut – Fighting Back Pain
The exercises with LumboGut are divided into 3 groups: First, correcting or streching, in a next step mobilizaion, moving your lumbar intervertebral discs and facet joints ... and finally, the strengthening of your spinal muscles trains both your deep and superficial muscles. This impoves the support characteristics of your spin. You also avoid dangerous weakening and the resulting damage to your spine. In order to achieve an optimal training result for your back, we recommend that you perform all exercises in succession each with a short break, with a total training time of approximately 5 minutes per day.
Preparation
Lie flat on your back on a flat surface, such as an exercise mat – please note that the effect of LumboGut can be lower by using too soft surfaces like a soft mattress. Your legs are streched and slightly opend (45degrees). Relex and breathe on calmly throughout the whole training period.
Step 1: Correcting / Stretching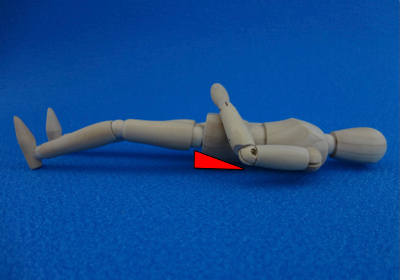 Please place LumboGut in the center under your pelvis, with the edgy side facing your feet. Correct your posture and the position of LumboGut according to the specified position if necessary until it is comfortable for you. Leave LumboGut in this position for about 3 minutes.
Step 2: Mobilize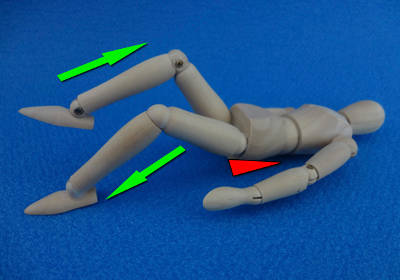 Adjust your legs to about 90 degrees. Now make small steps using both feet on the spot. Please continue to "walk" on the spot for about 10 times.
After the 2 minutes of walking on the spot, stop walking but keep your legs in the given position. Keeping the positioned legs, til your pelvis toward your feet and head, alternating left and right. This results in circular motion, wich you perform for 10 times.
Step 3: Strengthening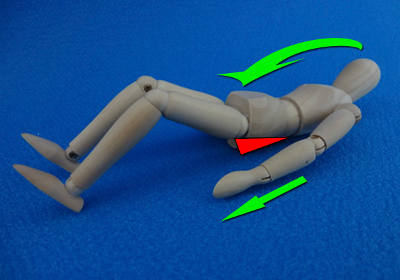 Please stop the movement, but keep your legs in their position. Your arms lie flat and parallel to your trunk. Pull the tiptoes up and press the heels down at the same time. Move your arms towards your feet while you lift your head slightly. Tensing and relaxing alternate rhythmically in phases of 3-5 seconds. Perform the exercise for 10 times.

For more exercises with LumboGut, please ask your physiotherapist or masseur.